.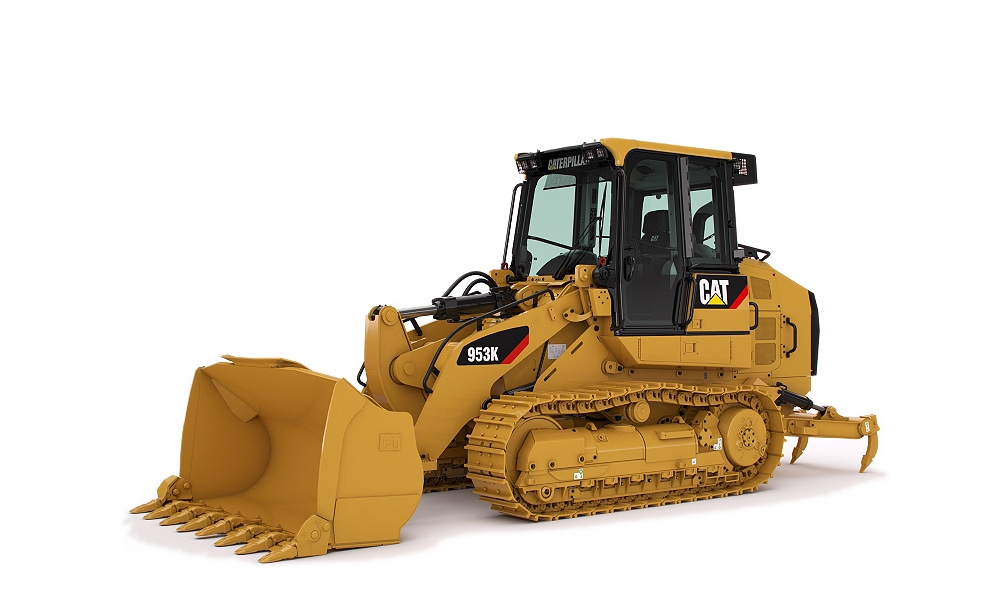 🔍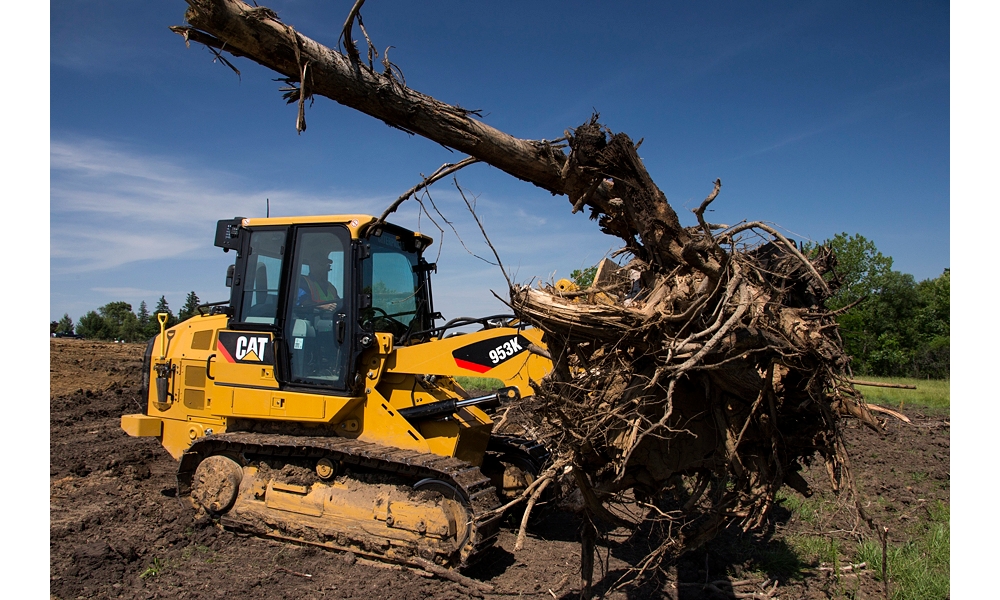 🔍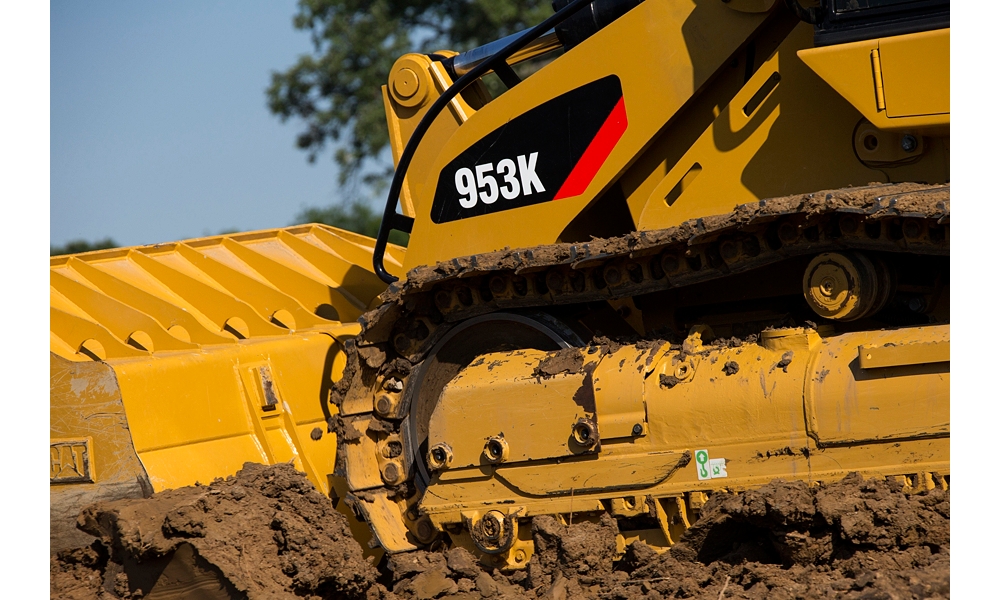 🔍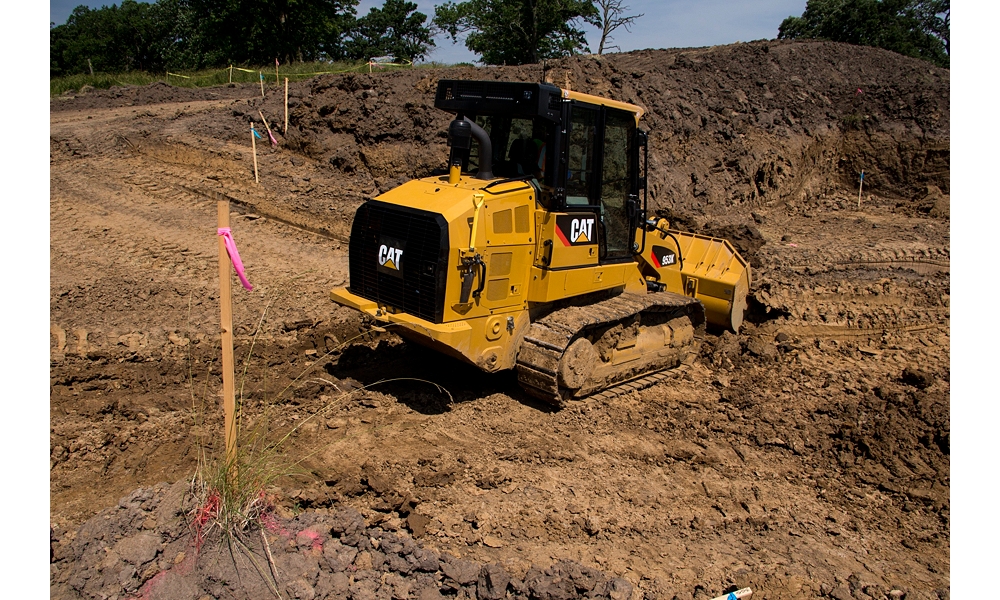 🔍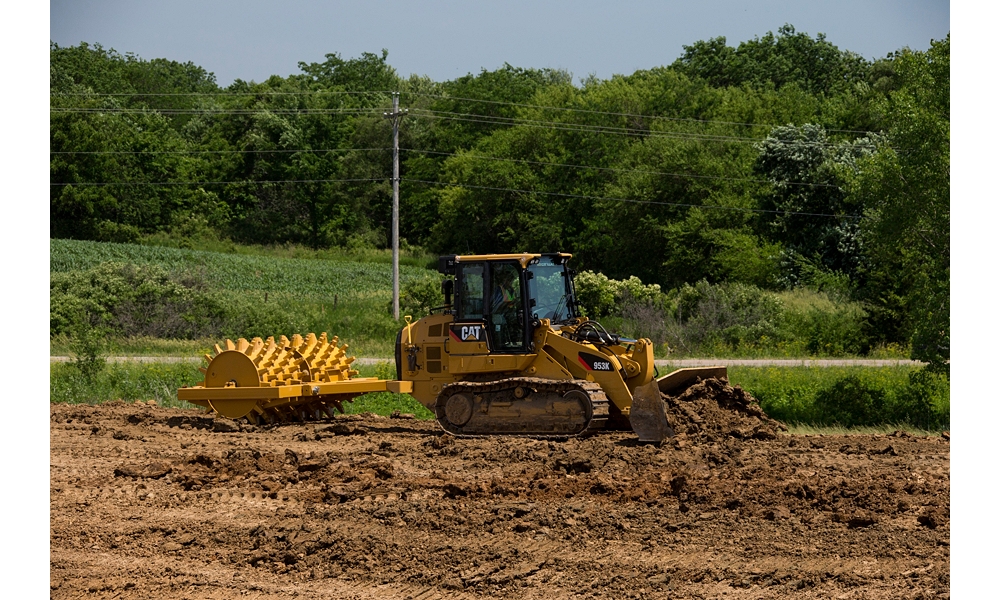 🔍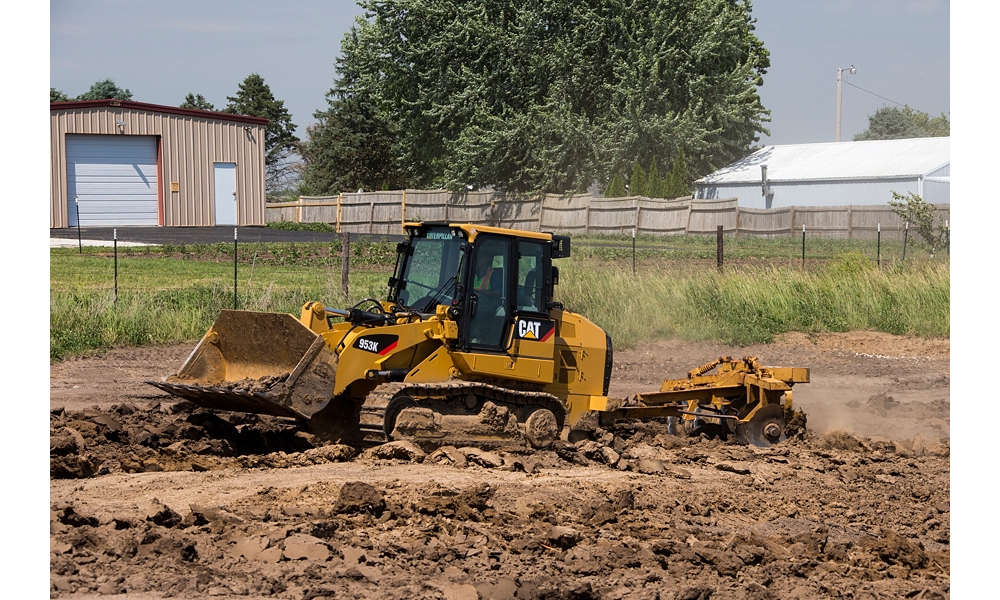 🔍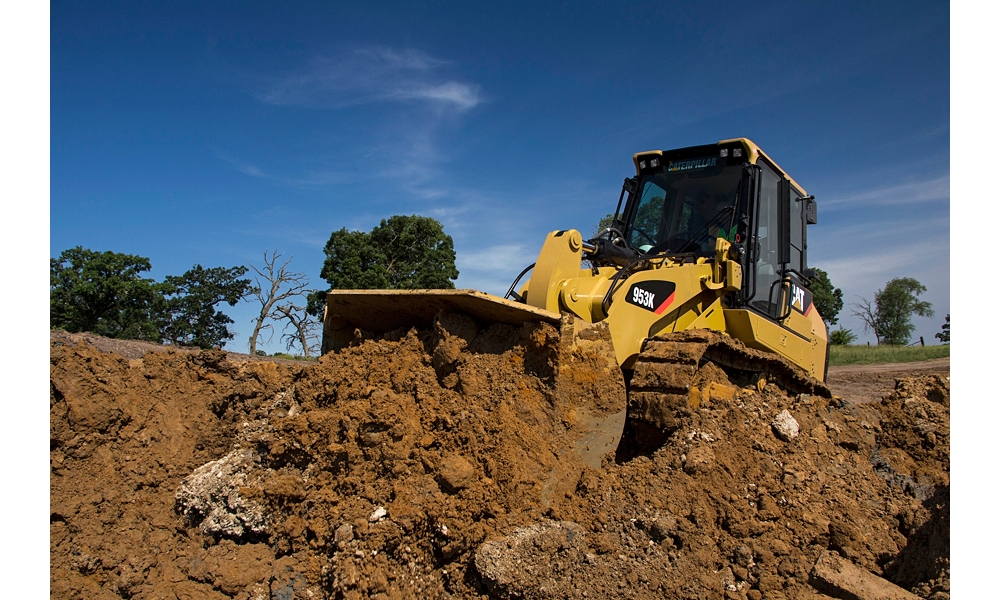 🔍
🔍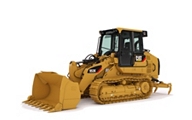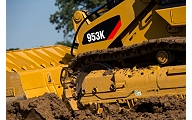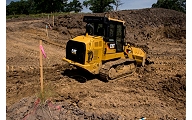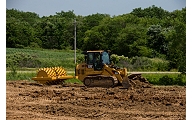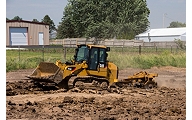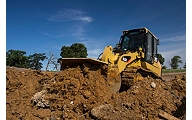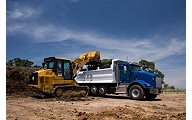 Description
Rates
Technical Specifications
Benefits and Features
Equipment
Save money and transport time with one rugged machine for land clearing, digging, grading, truck loading, slope work and more. Crawler loaders give you reduced ground pressure and better traction so you can start the job earlier and work longer in soft underfoot conditions. Purpose-built Waste Handler, Ship Hold and Partial Steel Mill configurations stand up to the toughest applications. This new generation of Cat® Track Loaders brings you all of this, plus improved performance and fuel efficiency.
Call our Rental Team at 855-NMC-RENT for rates
| | |
| --- | --- |
| Flywheel Power | 154 HP |
| Operating Weight | 33852 lb |
| Capacity - General Purpose | 2.4 yd³ |
| Engine Model | Cat C7.1 |
| Net Power (Rated) - SAE J1349/ISO 9249 | 154 HP |
| Net Power - Rated - ISO 9249 (DIN) | 156 HP |
| Emissions | U.S. EPA Tier 4 Final/EU Stage IV/Korea Tier 4 Final or China Nonroad Stage III, India Bharat III, Eurasian Economic Union Stage IIIA, UN ECE R96 Stage IIIA emission standards, equivalent to Tier 3/Stage IIIA |
| Note (1) | All nonroad Tier 4 Interim and Final, Stage IIIB and IV and Korea Tier 4 Final diesel engines are required to use only Ultra Low Sulfur Diesel (ULSD) with 15 ppm (mg/kg) of sulfur or less, or up to B20 biodiesel blended with ULSD. B20 should meet ASTM D74 |
| Note (2) | Diesel Exhaust Fluid (DEF) used in Cat Selective Catalytic Reduction (SCR) systems must meet the requirements outlined in the International Organization for Standardization (ISO) standard 22241. |
DO MORE WITH LESS FUEL
953K uses 10-25 percent less fuel per hour than the previous model.
Optional Performance Series bucket helps you move up to 10 percent more material per hour.
Efficient use of Diesel Exhaust Fluid*– typically 2.5-3 percent of fuel consumption – provides excellent overall fluid efficiency.

* Machine equipped with U.S. EPA Tier 4 Final/EU Stage IV emissions reduction technology.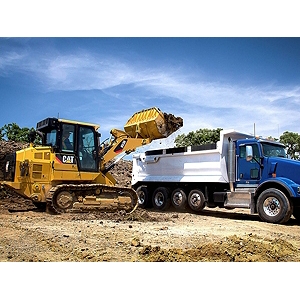 BUILT TO PERFORM
Smoother implement and steering response, and improved steering performance over the previous model.
Features like load sensing hydraulics and position sensing cylinders offer precise, responsive performance.
Cat C7.1 engine delivers power and fast response when the machine is under load.
Reduced engine noise – quieter for the operator and others around the work site.
EXPAND YOUR CAPABILITIES
Steel track undercarriage allows you to work in wet, soft, or sensitive underfoot conditions.
Finish jobs in less time – track loaders can often start the job earlier and work longer than other machines due to their lower ground pressure and increased traction.
Quick Coupler Ready – Fusion™ Quick Coupler option allows easy use of forks, buckets, etc. from wheel loaders and other Fusion compatible machines.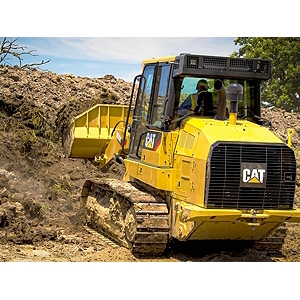 EASY TO OPERATE
Choose either joystick or two-lever implement controls to match operator preference or application.
Speed/steering controls available as either a joystick or as v-lever and foot pedals.
Updated cab offers operator comforts like suspension seat, adjustable armrests and controls, and an improved air conditioning system.
Excellent visibility to the bucket and all around the machine enhances safety and helps operators work more confidently.
Handles and steps help operators climb on and off the machine more easily, from the front or the back of the tracks.
Set implement response – fine, normal, coarse – to match operator preference or application.
Emissions reduction technology is designed so regeneration runs automatically in the background while you work.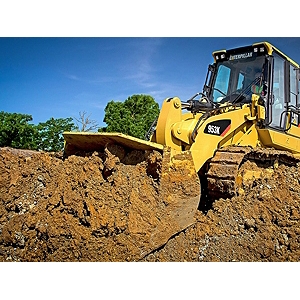 SAVE ON MAINTENANCE TIME
Integrated diagnostics show operators on-board pressure readings for faster service.
Tilt cab and convenient service access points for easier maintenance and repair.
Demand fan provides efficient cooling plus easy fold-down service access.
Remote monitoring with Product Link™/VisionLink® helps you manage your fleet more effectively and profitably.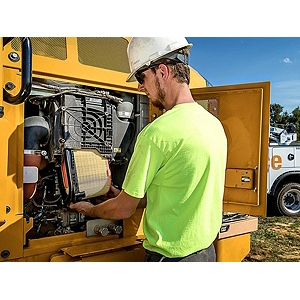 TAKE ON THE TRASH
Waste Handler arrangements feature added guarding and seals to give you a purpose-built machine to take on the challenges of waste applications. A choice of buckets and track shoes allow you to further optimize the machine for greater performance and service life.
Versatile machine for loading, sorting, excavation and spreading cover, well suited to the landfill or transfer station.
Specialized guarding, striker bars and seals help protect the machine and components from impact and airborne debris.
Final Drive guarding helps prevent wrapping and damage.
Bars help protect windshield and operator from breakage and debris. Cab door guards offer added protection.
Cooling system is designed for high debris environments and easy cleanout access.
Specialized air handling features help deliver cleaner air to the machine and to the cab.
Laminated thermal shields and insulated clean emission module.
Landfill buckets, equipped with heavy-duty trash rack, offer increased capacity and reduced spillage.
Center-hole track helps reduce packing. Choose from a variety of shoe types and widths to optimize the loader for your application.
Optional rear vision camera enhances visibility behind the machine.
Enhanced Cleaning Package -
Faster, easier cleanout.
Wide gauge undercarriage equipped with a standard track shoe allows more space for debris to pass between the track roller frame, tracks and chassis.
Design helps reduce damage caused by debris carried on the tracks.
Heavier waste configuration combined with narrower track shoes increases ground pressure for greater compaction.

Note: Features may vary by model and region. Please consult your Cat dealer for details and availability.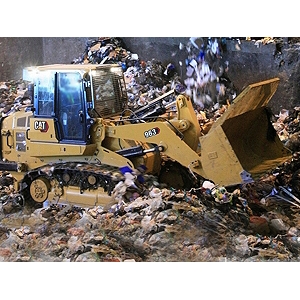 KEEP THINGS SHIPSHAPE
Specialized Ship Hold machines give you the optimal combination of traction, high reach and machine balance makes track loaders ideal for working in ship holds and port handling duties.
Specialized implements, like coal buckets and trim blades, help you sweep down walls and handle a variety of materials.
Fusion Quick Coupler option adds versatility with easy use of forks, buckets and other attachments from compatible machines.
Specialized sealing, guards and bumpers help protect key components.
Front and rear eyes widely spaced for stability during lifting.
Added lighting packages help illuminate the work area.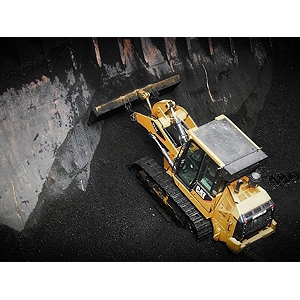 Standard Equipment:
Note

Standard and optional equipment may vary. Consult your Cat dealer for details.

Power Train

Cat C7.1 diesel engine, turbo charged with Air-To-Air After Cooler (ATAAC)
Modular cooling system for engine air intake, oil and water
Radiator fan, electronically controlled, hydraulically driven, temperature sensing, on demand
Electro Hydrostatic Control (EHC) for transmission with travel and work modes
Engine idle shutdown
Auto engine speed control
Electric fuel pump
Water separator
Air cleaner dry-type, axial seal with integral precleaner and dust ejection system, electronic filter condition indicator
Starting aid, glow plug
Cat extended life coolant

Undercarriage

Cat heavy duty undercarriage: 953K (37 sections), 1836 mm (72.3 in) track gauge
Track guiding guards, end section
Track adjuster, hydraulic
Sprocket rims, with replaceable bolt-on tough steel segments
Guards, sprocket
Six track rollers per side with two upper carrier rollers, lifetime lubricated
Idlers, conventional type, lifetime lubricated
Oscillating track roller frames

Electrical

Alternator, 24V, heavy duty brushless
Backup alarm
Electric horn
Two heavy duty batteries, high output, maintenance free: 900 CCA
Switch, main disconnect
Starter, electric (heavy duty, 24V)

Operator Environment

Pressurized, sound suppressed, ROPS/FOPS cab with tinted glass and right side sliding window
Air conditioning and heating
Heater/defroster with automatic temperature control
Seat, fabric-covered, air suspended, adjustable
Adjustable armrests
Electro hydraulic, seat mounted control levers with faster processing
Seat belt, retractable, with buckling indicator on dash
Electronic Monitoring System with gauges for: Engine coolant temperature; Hydraulic oil temperature; Fuel level; Engine oil pressure; Diesel Exhaust Fluid level (when equipped)
Engine RPM and gear display
Hour meter, electronic
Throttle switch rotary with Eco Mode
Center brake pedal
Independent forward/reverse speed range settings
Travel speed limiter, electronic
Mirror, rearview, inside, adjustable
Radio ready, Includes 24V to 12V converter, speakers, antenna and 12V power outlet
Coat hook
Storage compartments under left armrest
Document holder on right console
Floor mat, rubber, heavy duty
Windshield washer and wipers, multiple speed front and rear
Durable metal roof
Parking brake switch and "brake-on" indicator light
Fender

Other Standard Equipment

Sound suppression, exterior
Z-bar loader linkage
Load sensing variable displacement implement pump
Implement cylinders with sensors
Operator programmable lift and tilt kickouts
Engine enclosure with lockable doors
Radiator core 6.5 fins-per-inch, debris resistant
Hinged radiator guard and swing out fan
Full bottom guards
Ecology drains on hydraulic oil tank
Product Link ready
Oil sampling valves
Cat XT hoses
HYDO Advanced 10
Optional Equipment:
Note

Standard and optional equipment may vary. Consult your Cat dealer for details.

Power Train

Cat C7.1 diesel engine with engine mounted aftertreatment to meet U.S. EPA Tier 4 Final/EU Stage IV/Korea Tier 4 Final emission standards OR Cat C7.1 diesel engine to meet China Nonroad Stage III, India Bharat III, Eurasian Economic Union Stage IIIA
Demand fan, reversing
Air inlet, precleaner, turbine
Transmission control, V-lever or joystick

Operator Environment

Standard cab with four halogen lights (two forward-facing roof mounted, two rear-facing integrated into air conditioning unit)
Deluxe cab with sliding windows, Bluetooth radio microphone, eight LED lights (four forward-facing, two sideways facing, two rear-facing integrated into air conditioning unit)
Seat, cloth, air suspension, no side-to-side isolator
Radio, AM/FM/AUX/USB/Bluetooth
Easy access package (grab irons and steps)
Cab air precleaner
Front light guards
Windshield protection

Hydraulics

Hydraulic oil, biodegradable
Hydraulics Packages: General Purpose - Two-valve, joystick Three-valve, joystick; Two-valve, two levers; Three-valve, two levers
Hydraulics Packages: Multi-Purpose - Three-valve, joystick; Four-valve, joystick

Fuel Systems

Fast fill fuel tank
Fuel tank refueling pump

Undercarriage

Idler guard
Idler guard, ship hold
Full length track roller guard
Full length track roller guard, heavy duty
Track Groups (37 sections) - Heavy Duty Track Groups: 380 mm double grouser, 380 mm double grouser, sealed; 480 mm double grouser, 480 mm double grouser, center hole, 800 mm double grouser
Track Groups (37 sections) - SystemOne Track Groups: 380 mm double grouser, 480 mm double grouser

Buckets

General Purpose: 1.7 m³, flush
General Purpose: 1.8 m³
General purpose: 1.8 m³, full edge
General Purpose: 1.8 m³, heavy duty
General Purpose: 2.1 m³, Performance Series
Multi-Purpose: 1.8 m³
Wide: 2.2 m³, flush
Landfill: 2.3 m³
Landfill: 2.1 m³, heavy duty

Starters, Batteries And Alternators

Cold weather package, 120V - two 12V batteries (1,400 CCA), 120V engine coolant heater, ether starting aid
Antifreeze -50 degrees Celcius

Other Attachments

Counterweight, light, 230 kg (507 lb)
Counterweight, additional, 220 kg (485 lb)
Ripper, multi-shank
Hitch, ripper
Striker bars, rear
Additional work tools: Fusion Quick Coupler, Blades, Forks, Material handling arms, Rakes, Trim blade or two-way dozer

Electrical

Maintenance And Related Attachments

Fuel tank sediment pump
High speed oil change system
Service package, extended: Manual hydraulic system enabling cab tilt and lock at 30 degrees safely in the field; Windshield, sealed; Shovel holder (shovel not included)

Technology Products

Product Link - Satellite
Product Link - Cellular
Grade Control receiver mast

Special Arrangements

Waste Package, Heavy Duty
Waste Package, Heavy Duty, Enhanced Cleaning
Ship Hold Package, Heavy Duty
Partial Steel Mill Package, Heavy Duty
Low Ground Pressure Package, Heavy Duty