.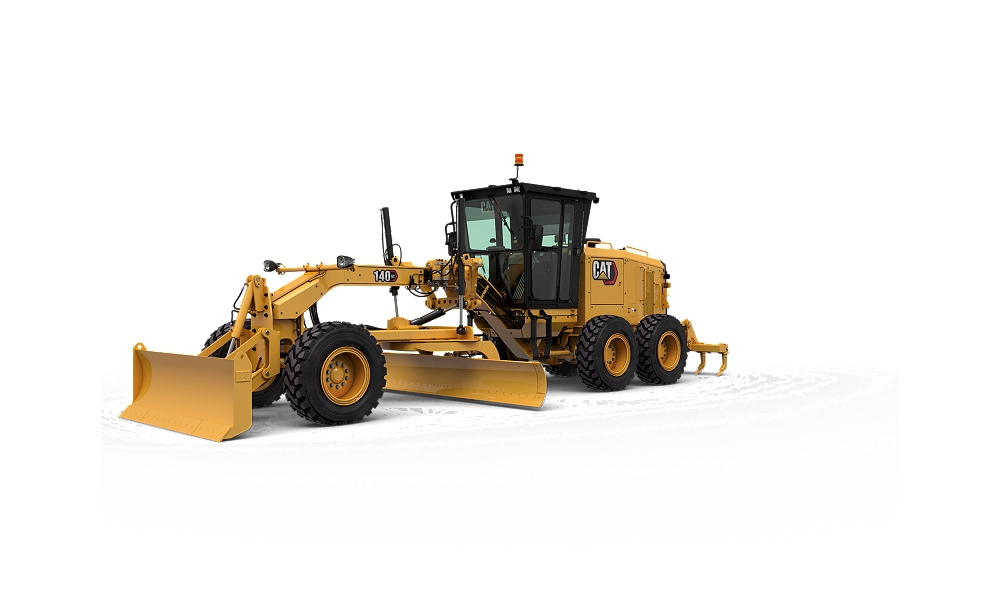 🔍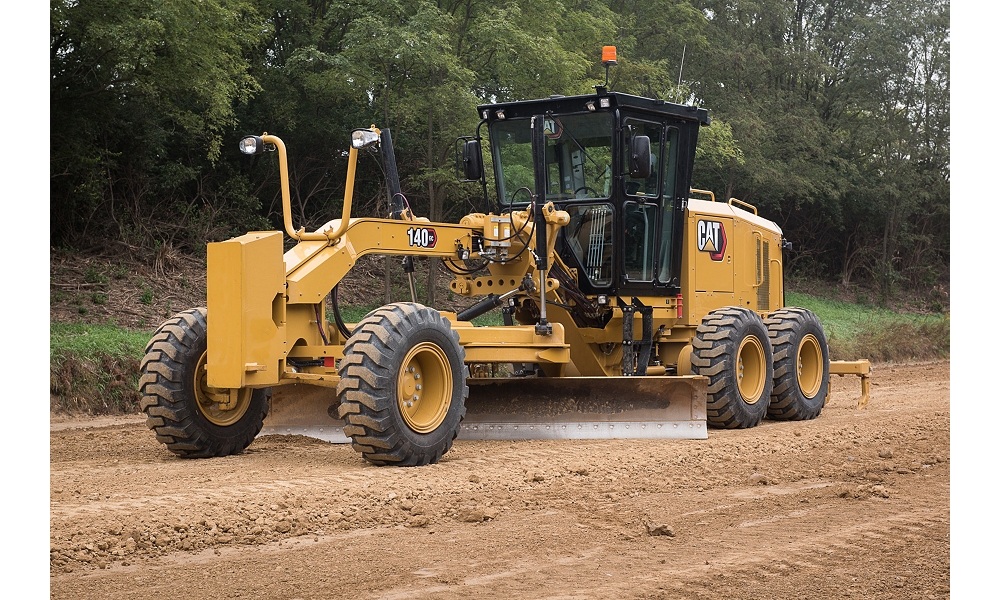 🔍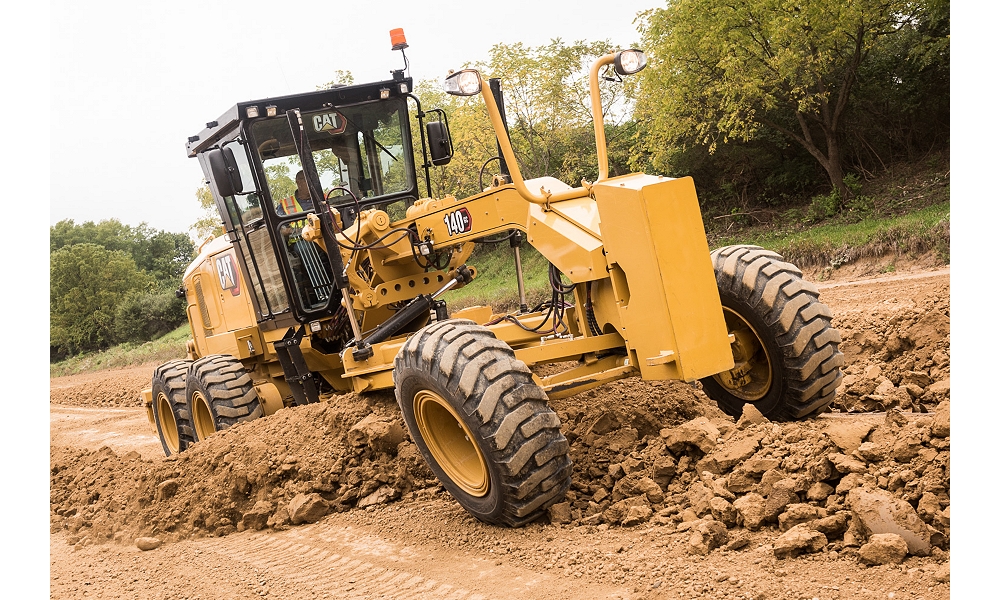 🔍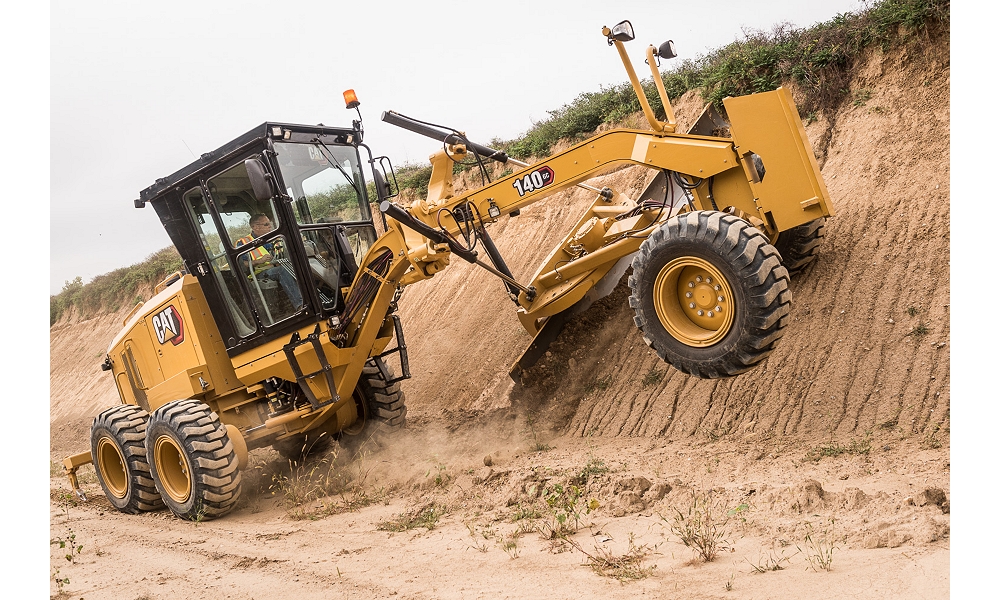 🔍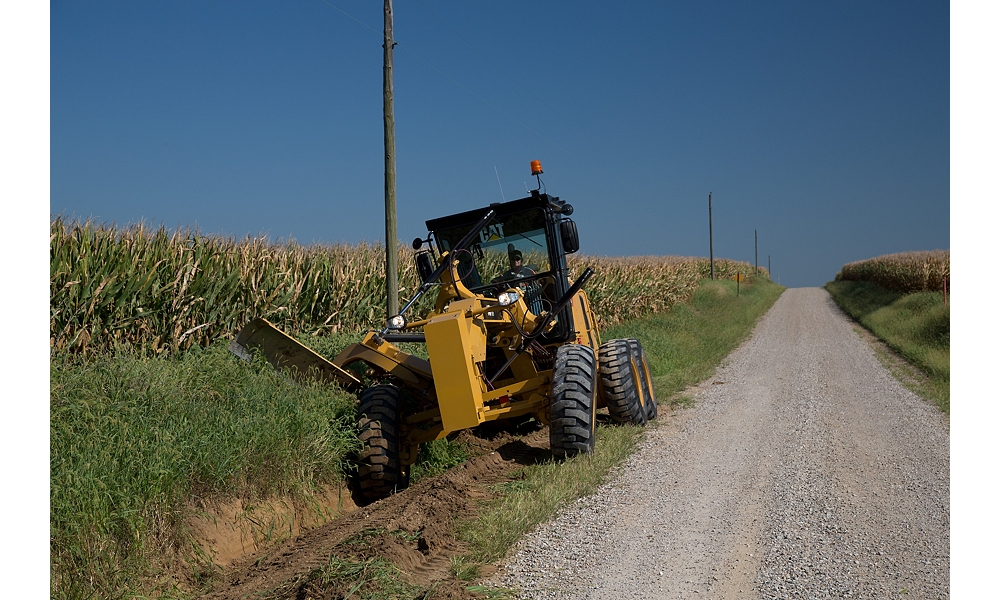 🔍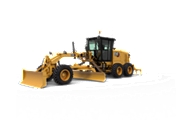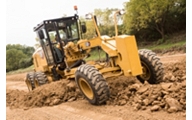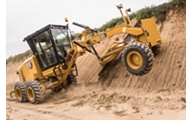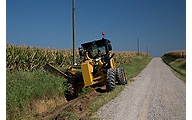 Description
Technical Specifications
Benefits and Features
Equipment
The Cat® 140 GC motor grader is easy to own and operate. It's easy on your wallet too. A demand fan and standard ECO mode reduces fuel consumption while open access to maintenance points makes service quick and simple. Control the blade with consistent movement using lever controls from the comfort of the all new cab. Not all features available in all regions. Consult your Cat dealer for specific configurations available in your region.
Engine
Engine Power (ISO 14396)
196 HP
Bore
4.1 in
Derating Altitude
9842 ft
Displacement
427.8 in³
Emissions
U.S. EPA Tier 4 Final/EU Stage V
Engine Model
Cat 7.1
Engine RPM
2,200
Standard Capability
109 °F
High - Ambient Capability
122 °F
Maximum Torque - ISO 9249
616 lb/ft
Stroke
5.3 in
Torque Rise - ISO 9294
40%
Number of Cylinders
6
Note (1)
Net power is tested per ISO 9249, SAE J1349, and EEC 80/1269 standards in effect at the time of manufacture.
Note (2)
Net power advertised is the power available at rated speed of 2,200 rpm, measured at the flywheel when engine is equipped with fan, air cleaner, muffler and alternator.
Note (3)
Power as declared per ISO 14396
Engine Power AWD (ISO 14396)
196 HP
Weight
Weight (Stage V)*
38912 lb
Weight (Tier 4 Final)**
40488 lb
All-wheel Drive Weight (AWD) (Tier 4 Final)**
42119 lb
All-Wheel Drive Weight (AWD) (Stage V)*
40543 lb
Moldboard
Blade Width
12 ft
Arc Radius
16.3 in
Blade Height
24 in
Cutting Edge Width
6 in
End Bit
6 in
Throat Clearance
4.4 in
Air Conditioning System
Note
The air conditioning system on this machine contains the fluorinated greenhouse gas refrigerant R134a (Global Warming Potential = 1430).The system contains 2.0 kg of refrigerant which has a CO2 equivalent of 2.86 metric tonnes.
Weights
Note
* Typically equipped operating weight is calculated with full fuel tank, coolant, lubricants, operator, push block, rear ripper, tires on multi-piece rims (*17.5-25 Bias/**17.5R-25), and other equipment.
Dimensions
Width All Wheel Drive (AWD)
99.3 in
Length of Machine*
406.7 in
Maximum Height
132.4 in
Width
95.6 in
Note
*Typically equipped with push block and ripper.
Blade Range
Circle Center Shift Left
29.6 in
Circle Center Shift Right
28.7 in
Maximum Depth of Cut
28.1 in
Maximum Lift Above Ground
18.7 in
Maximum Shoulder Reach Left
74.3 in
Maximum Shoulder Reach Right
71.3 in
Moldboard Side Shift Left
25.6 in
Moldboard Side Shift Right
20.7 in
Blade Tip Range Backward
5
Blade Tip Range Forward
40
Service Refill Capacities
Fuel Tank
78 gal (US)
Circle Drive with Slip Clutch
2 gal (US)
Circle Drive without Slip Clutch
0.5 gal (US)
Cooling System
40 l
Engine Crankcase
5.5 gal (US)
Diesel Exhaust Fluid Tank (Tier 4 Only)
4.2 gal (US)
Hydraulic System
11.9 gal (US)
Transmission
4.8 gal (US)
BUILT TO PERFORM
Increase your fuel economy up to 5% with the standard ECO mode.
The on-demand fan reduces fuel consumption and under-hood heat for longer component life.
Improve productivity with the Electronic Throttle Control which matches engine power and torque to application requirements.
The powershift transmission with torque converter and machine balanced design ensures that you get full drawbar power to the ground with the Cat C7.1 engine.
The all-wheel drive (AWD) option assists with traction and maneuvering in loose material. The increased power with all wheel drive handles rough terrain with extra traction for better productivity.
The hydraulic system offers a multifunction capability for precise and predictable performance resulting in a more consistent grade.
Increase your maneuverability with the articulation hitch to give you a shorter turning radius.
The Digital Blade Slope Meter option shows you the grade without relying on manual grade checkers to keep your work site more productive and safer.
Product Link™ provides location, machine hours, fuel usage, productivity, idle time, diagnostic codes, and other machine data on demand through the VisionLink® online interface, which helps you improve jobsite efficiency with lower operating costs.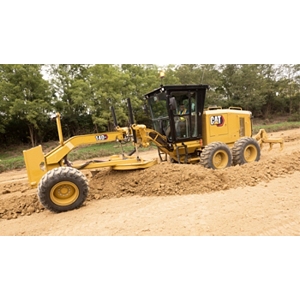 WORK IN COMFORT
Choose your comfort level in the cab with standard, mechanical suspension or air suspension seat.
Easily adjust the control console and steering wheel.
The high capacity Heating, Ventilation and Air Conditioning (HVAC) system option circulates fresh air, prevents dust entry and keeps windows from fogging.
Easily add a radio to the cab using the built-in mounting location option.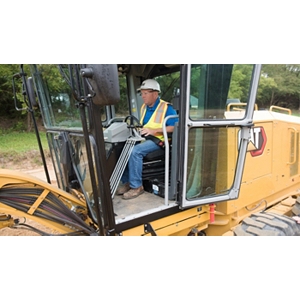 RELIABLE, WHATEVER THE ENVIRONMENT
The drawbar circle moldboard stays factory tight providing precision grading pass after pass.
The machine structure is built for a long life. It's designed to use several types of work tools, such as a front blade.
A slip clutch option protects the circle drive if the machine strikes an immovable object.
The front axle maximizes bearing life while also minimizing maintenance.
Reduce daily greasing requirements and costly repairs to your circle and pinion with the Circle Saver option.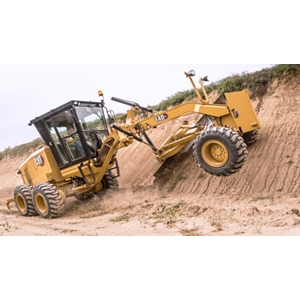 SAFELY HOME EVERY DAY
See what's behind you with the rear camera option. The dedicated display can always be on to ensure a safe work environment.
Optional dual front cameras offer more visibility to you while roading and working with the blade.
In the event of an engine stall, count on the secondary steering system option to help stop the machine safely.
Use three points of contact when entering and exiting the machine with strategically placed walk ways and grab rails.
Ground level engine shut-off switch stops all fuel to the engine when activated and shuts down the machine.
See the rear of your machine with side and rearview mirrors.
Work past sundown using the strategically placed lights for night time visibility.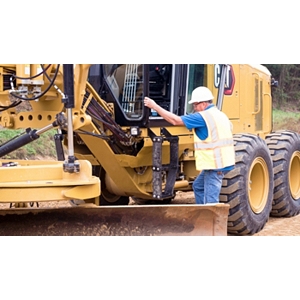 SIMPLIFIED MAINTENANCE
Filters, such as fuel, engine air, and oil filters, are grouped together for easy access and preventative maintenance.
The standard drawbar circle moldboard increases durability using hardened circle teeth and replaceable wear inserts to help sustain factory tightness.
Hydraulic brakes are well oiled to keep them maintenance free.
The standard bottom guard shields the transmission and filter. Optional guarding underneath the cab protects your machine from damage in demanding applications.
Spend less time cleaning the cooling system with the reversing fan option, which reduces costs when cleaned once per week for more uptime.
Remote Troubleshoot connects you to a dealer service pro to help solve your problem and quickly get you to work.
Remote Flash works around your schedule to ensure your machine's software is up to date for optimal performance.
S·O·Sports are available for simplifying maintenance and allowing for quick, easy extraction of fluid samples for analysis.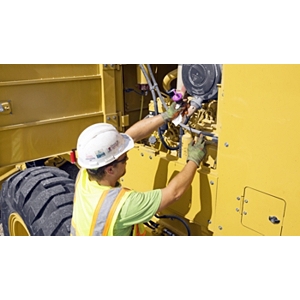 EXPAND YOUR CAPABILITIES
Improve the performance and efficiency of your machine with the standard or heavy-duty push block and counterweight options.
Ripper and scarifier options are available to assist with grading hard ground.
The front lift group option is ready for attachments like the straight front blade.
Expand your machine's capabilities with the tow hitch.
For more road coverage, add a moldboard extension to add 605 mm (24 in).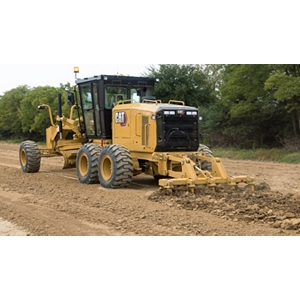 Standard Equipment:
Note

Standard and optional equipment may vary. Consult your Cat dealer for details.

Cab

Standard Seat
Steering Wheel/Lever Controls
Base Cab
Information Display Screen
Halogen Lighting
Entertainment Radio Ready
Product Link

Power Train

Cat C7.1
ECO Mode
On-Demand Fan
No-Spin Differential

Safety

Parking brake
Signaling/warning horn
Rearview mirror
Hydraulic brakes
Sideview mirrors
Walkways and Grab Rails
Optional Equipment:
Note

Standard and optional equipment may vary. Consult your Cat dealer for details.

Cab

Mechanical Suspension Seat
Air Suspension Seat
ROPS/FOPS
Heating/Cooling Cab System
Rear Wiper
Canopy
Cab Plus
Rear Window Screen
Front Wipers
Digital Blade Slope Meter

Drawbar Circle Moldboard

Circle Drive Slip Clutch
Circle Saver

Power Train

Reversing Fan
All-Wheel Drive (AWD)

Safety

Rearview camera
Secondary steering system
Front View Camera

Versatility

Scarifier
Counterweight
Push Block
Front Lift Group
Snow Wing
Front Blade